""We no longer will accept deposits on puppies until they are two weeks of age"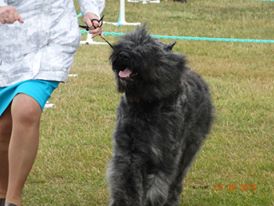 How to buy our puppies.
1: Fill out the application located on our site and we will contact you.  Be sure to include your phone number.  This begins the process of buying one of our wonderful puppies.
2. Once you have been contacted and we have talked if you decide you want a puppy we will send you via UPS our contract, our buyers order and a more complete application for a Bouvier Puppy.  You will be required to send back as soon as possible the completed application and buyers order along with a 100 dollar (Non Refundable) fee.  This covers all the necessary back and forth costs as well as time.  If you follow through and complete the purchase we will deduct the 100 dollars from the puppy sale.  If you back out for any reason the 100.00 will be kept and under no circumstance is it refundable.
3. Once the litter is born you will be notified as to how many puppy's there are and how many of each sex.  This will give you time to finish the contract, get it signed and notarized and sent to us by the time the puppies are two weeks of age.  At this time a 500.00 deposits must accompany the signed and notarized contract.  Once we receive the paper work back with your deposit of 500.00 in a certified check you will be guaranteed your puppy based on what we have discussed.
4.  At this point in the buying process you have committed to your new puppy and refunds will not be given should you decide to back out  before your puppy leaves our home to yours.  We have had tails and dew claws done, health checks, and spent a great deal of time caring for your new family member.  A week prior to you getting your new puppy you will be contacted and final payment is due at that time.  If your puppy is being shipped I will explain to you the process we use for payment of the shipping costs.
5.  If your puppy is going to have his ears done I can arrange to have it done for you here at 7 weeks of age.  I will give you the name of the local vet who does them and its your responsibility to make payment arrangements with them yourself.  If the puppy is having its ears done I will hold it an extra two weeks to ship to give the ears time to heal.  There will be a fee of 200.00 added to the cost of the puppy for the aftercare and time I will spend making sure the ears are cleaned and they are standing prior to shipping.
6.  Once you receive your puppy you have seven (7) days to take it to your local vet for its check up.  A copy of the check up must be sent to us from your vet and dated no latter then the seven days we give you or the guarantee is null and void.
We apologize we have to resort to such a rigorous buying process but its so your protected as well as us.  Its always nice to have money in advanced but mother dogs don't always cooperate and to often someone has to end up waiting for the next litter or they become upset because something goes wrong.  We go to great lengths to make sure your getting a quality puppy.  One that is stunning to look at yet has a temperament where everyone is their friend.  Puppies like ours are the result of careful breeding and showing our dogs so they are proven both in conformation and other activities.  We are always available for anyone who needs help with their Bouvier whether its one of our or they got it from someone else.